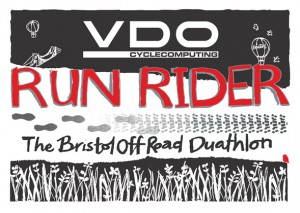 Welcome to the VDO RunRider – The Bristol Off Road Duathlon 
The Run Rider is the latest addition to the Bristol off road calendar and will offer the runners/riders one of the best courses in the country. Being run in conjunction with popular Bristol Oktoberfest (www.bike-fest.com) the Run Rider will not just benefit from one of the most fun to ride mountain bike courses but will also deliver a tough but beautiful running course.
The event will take place on Sunday 13th October 2013 and rather than offering only one distance the VDO RunRider will have three – a Mini, Standard and a Classic option – so that everyone can find the right distance and level of challenge.
Location for the VDO RunRider will be Ashton Court, Bristol. Easy to get to and just a stones throw away from the Clifton Suspension Bridge and the centre of Bristol itself.
So if you are a runner with a bike, a biker with some running shoes or a dedicated tri-athlete or duathlon competitor, come along and have a go at this fantastic event.
Oktoberfest
And don't forget on the Sat 12th of October we will have the Bristol Oktoberfest going on in Ashton Court. So if you keen why not make a big event weekend of it and take part in both events. Promise – you will not regret it!!!